It looks like Lewis Hamilton and his love for McLaren have made their way to the spotlight again. Lewis packed his Zandvoort Orange sunglasses for Mexico, but this time possibly supporting his first team, Mclaren.
ADVERTISEMENT
Article continues below this ad
After being spotted with orange sunglasses, the F1 twitter admins questioned Lewis' loyalty to Mercedes. And Aston Martin teased the color associated with McLaren's Papaya livery. McLaren then confirmed Hamilton's allegiance to the team, saying, "We can confirm that they are Papaya and that Lewis Hamilton is a McLaren fan."
ADVERTISEMENT
Article continues below this ad
Fans also recalled another incident where Hamilton slipped up with McLaren. During a grill the grid video, Hamilton had to name a team starting with 'M.' Hamilton simply smiled and named McLaren; only later remembering his current team.
Lewis Hamilton shares concerns around title fight
Recently, Toto Wolff likened the Hamilton-Verstappen rivalry to the one between Prost and Senna. But remembering the 1989 Japanese Grand Prix, Hamilton is wary of collisions deciding the championship.
Hamilton shared that he wanted to win the title properly. "I'm here to win in the right way and that's through sheer skill and determination and hard work."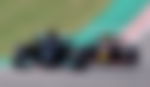 However, this also meant that the Brit didn't want to lose the title in the wrong way.
"If you're going to lose it, you lose it the right way also: with dignity and knowing that you're giving it you're all and you've done things the right way and you've worked as hard as you could."
ADVERTISEMENT
Article continues below this ad
While Hamilton acknowledged the pressures on Verstappen, the Dutchman is as cool as ever. He, too, shared his take on the parallels drawn to Prost-Senna.
"I don't really think about previous historic fights between two drivers, what they have done–that's the past. I just focus on what I have to do on track and that's to try and do the best I can, and that's how at the end of the day you're going to win the championship."
ADVERTISEMENT
Article continues below this ad
With both drivers focused on the now, Mexico is going to be yet another glorious battle for points as the championship reaches a zenith.
Watch this story: F1 Drivers Fighting on Track